Floor Care Services
Laminate Floor Cleaning, Wood Floor Cleaning, Carpet Cleaning, Floor Polishing and Waxing

Floor Cleaning Serving South Jersey
Dry Method Carpet Cleaning, Floor Care Services from Marlton, New Jersey
For a FREE quote, please call: (856) 985-7798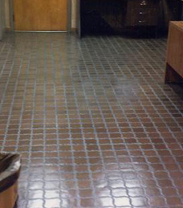 The state of the floors in your business or home makes a huge, yet subtle, impact on all who enter. That's why Garden State Janitorial, based in Marlton, New Jersey, uses dry method carpet cleaning, as well as the appropriate machinery and solutions.
Dry Method Carpet Cleaning
Let our janitorial services company clean your carpeting with our dry method. This involves cleaning, sanitizing, and deodorizing your carpets. You can expect the carpets to dry within just an hour.
This method is more convenient for homeowners and businesses, as you can have your furniture in place and be back in business within an hour. Another benefit of this method is that it helps eliminate mold.
Wood Floor Cleaning and Care
Our highly trained technicians know how to clean wood floors professionally with the correct machinery. Soft cloths are used, enhancing shine with a method that won't damage your floor. The products used are appropriate for the job. In addition, we paste-wax wood floors for that lustrous shine.
Floor Waxing & Stripping, Polishing

Using the correct stripping solutions and equipment, our technicians strip the old wax off your floor. Then, it's time to use our machinery to apply an environmentally friendly solution, which we wet-dry vacuum off the floor, followed by rinsing and neutralizing. To finish, we apply a sealer.
Laminate Floor Cleaning & Care

Our highly trained technicians know how to maintain and clean laminate flooring professionally. Laminate floors takes a special expertise. Using to much water and chemicals can do extreme damage to a laminate floor. Let our professionals do the job.
Office Cleaning
Allow our company to perform general office cleaning and Floor Care Services for you. This includes:
Emptying Trash
Vacuuming Carpets
Cleaning the Lunchroom
Providing the Highest quality of:
Carpet Cleaning
Ceramic Tile Cleaning
Grout Cleaning
Pet Stain Cleaning
Odor Removal
Oriental Rug Cleaning
Hardwood Floor Cleaning
Area Rug Cleaning
Vinyl Floor Cleaning
Laminate Floor Cleaning
Kitchen Floor Restoration
Kitchen Floor Cleaning
Floor Stripping and Waxing
Floor Polishing
Upholstery Cleaning
South Jersey Floor Cleaning
Areas we serve:
Carpet Cleaning Marlton, New Jersey 08053-54
Carpet Cleaning Mount Laurel, New Jersey 08054
Carpet Cleaning Medford, New Jersey 08055
Carpet Cleaning Moorestown, New Jersey 08057
Carpet Cleaning Cinnaminson, New Jersey 08077
Carpet Cleaning Cherry Hill, New Jersey 08003, 08002, 08034
Carpet Cleaning Voorhees, New Jersey 08043
Carpet Cleaning Hainseport, New Jersey 08036
Carpet Cleaning Evesham, New Jersey 08053